CHRISTMAS 1990
My Dearest Children, Michael and Judy, Sandra, Victor and Patricia and Thomas and Kim, this may seem a very strange Christmas present to receive but I have wanted to write a few details on your Grandmother Murdock for a long time. You might say that this is as much a gift for me as it might be for you. She was a very unusual Woman and in my forty-three years with her, I saw many of her strengths. This will tell you a little about how those strengths were formed.
As I look back these last twelve years since I have accepted the Lord as my Savior, I can see how much she depended upon God and how He blessed her.
I have taken 'literary license' in telling this story. The happenings are all true as told to me by Grandma Murdock over a period of years and have been verified by Aunt Bea and Aunt Irene at different times. The conversations are mine but true to the subject, and I have changed some of the names. Some of the scenes may be out of focus but the acts are true. In other words, the facts are all here but the details may be embellished to bring out the intensity of the occurrences. I have also left out other things like the time Emelie Voelker was diagnosed with Tuberculosis in Buffalo, New York, and decided to cure it by walking miles each day in the snow and ice. You would probably doubt the result but I don't.
The following names are for real:
Emelie Hildebrand, Voelker, Murdock,
Gardner Lee Murdock,
Beatrice Violet Voelker,
Irene Katherine Voelker,
'Aunty' Margaret (I was named after her) Murman,
Mr. Murman (first name Eugene)
Hedwig Hildebrand,
Wilbur and Garland Murdock,
Violet Voelker.
The rest of the names are my invention although the people were actual participants. I don't remember Grandma's first husband's first name so I have called him, "Thomas".
I wish that you could have all known her as I did. After she died I received a letter from the wife of the lawyer, who I call Mr. Laurence, stating how much her deceased husband had treasured his friendship with Emelie. She said that Emelie was the only one that he would allow his secretary to let into his office because he did so enjoy his intelligent discussions with her. I have heard that she was the most popular and highest paid nurse in Buffalo, New York. The latter information came from a family that lived there and were her friends when she was a young visiting nurse. Just a few lines to let you know how other people loved and respected her. I do miss her but know that I will see her in Heaven.
I love each one of you so very much. May God keep you in His Arms and Bless you with His Presence this Christmas and always.
Emelie
Emelie looked at the double bed where she had slept with her mother and the confusion of yesterday morning returned to shake her. She remembered waking early and shivering. She had crept closer to her mother. The woman's body was cold and startled, Emelie had called her name "Mama, mama!"
"Shut up Emelie," Hedwig grumbled from the pullout bed where she slept with Heinrich. "It's not time. It's only 4:30. Go back to sleep" Emelie
The snow fell softly against the window pane. Emelie pressed her nose to the glass and watched the drifts climb up the buildings along the street. Her older sister, Hedwig, talked quietly to Heinrich as she pulled his thin arms through the small jacket. "There, now, don't cry. You will be well taken care of in the Academy and I will come to see you whenever I can.
Here put these mittens on. Bruner comes. I've mended them for you. Wipe your face before Herr ??. You must be a strong young woman now.
Emelie turned from the window and watched the two. There were tears of pain inside wanting to come out but she knew it would mean a harsh word from her sister. After all, only the boys count in this Country, she thought. Can't waste precious time on girl orphans
Hedwig was lucky. At fourteen, she was prepared to be placed with a
well-to-do family as a servant. Her necessary trunk of clothes and incidentals had been prepared before the mother died.
"Come, Emelie, Cousin Hugo will be here any minute and you must be ready.
Hedwig showed the little girl to the door and gave one last look at the room. The double bed was stripped, the couch as clean as possible and the alcove, where meals had been prepared, was spotless.
-1-
"Yah," Hugo added, "imagine big black bears coming into your house. You should be glad that you live in this civilized country Emelie." "Elsa tells me that her brother wrote that he has to live in a fort because the natives, I think they call them Indians, cut your ears off and take your top of your head.
I wouldn't want to live such a dangerous country, would you, Emelie?" Anna asked the girl. Again Emelie said nothing. She wasn't used to the special attention her cousins were giving her tonight.
The talk about the wilds of the United States was of no importance to her now but she would remember it later. Two weeks passed in much the same manner with the frightening aspect of life in America being discussed.
Then the door opened. Hugo came home early one day and asked Emelie to sit down for a minute There's a man here from the United States who wishes to speak to you, Emelie. He has been sent by your father and will be here
tomorrow. Now, he will be asking you a lot of questions and you will have to answer them yourself.
Remember, that we have tried to do our best for you and have sacrificed a great deal for you. He will ask you if you want to go to the United States and just remember all the things we've been telling you.
Now do you understand me? It is a very dangerous place to live. Emelie nodded her head, not in agreement but to acknowledge that she had heard. In her heart, there was rejoicing.
She remembered what they had told her about that "foreign" Country and in the next hour she also remembered her place in this family. thought to herself,
there was a real family for her. In America her cousins had told her that her father had remarried.
In her adult-child's mind, she reviewed her situation in German. What could be worse than her future here.
She was a weary, seven year old, indentured, servant. Although she was not familiar with the vocabulary description, she knew that she was living the concept.
In later life she would put it into words and acknowledge the abiding love of God, for she eventually learned that her "father" had not wanted to bring the girls to America, only Heinrich, his son. The stalwart German woman that he had married insisted on including the two sisters.
Emelie cleared the table and washed the dishes. While she was sweeping the floor, she felt the chubby arms of little "Susu" around her. This should have brought tears to the older girl's eyes at the thought of leaving but, instead, she began to feel the joy of promised freedom and she hugged the baby and smiled. She would miss the little ones but there would be someone else for them.
The cousins came home early the next day and advised Emelie to put on a clean dress. Anna combed the girl's long blonde hair and braided it.
Then they waited. It was a quiet time with an air of tenseness. Although the cousins had convinced themselves that Emelie would turn down the offer, they were curious about her attitude. It was more than her usual complacency. Was there a hint of happiness? They had never seen the child happy, only docile and obedient. It hadn't made any difference to them as long as she did her work.
A gentle knock stirred the family and Hugo went to the door. The young man was dressed in suit and tie. He wasn't tall and not the least bit impressive but,
the Kaiser.
He was deliverance and hope.
to Emelie, he was next to
He was a chance to feel
in her heart.
He was the American lawyer. She held her breath.
you have been in fear of your circumstances, afraid that you will
be caught by an impossible situation,
-4-
you could not understand the feelings going through this child's mind.
shrieking, soundlessly, A voice inside of her "Ask me! Ask me! What are you waiting for? Please, just ask me!"
"Are you Emelie?" the young stranger asked.
"Yes," Emelie answered in a tightly controlled voice.
"Well, well, Emelie, how are you today? I've come from your father. He sent me to see how you are getting along."
"I'm fine," she answered.
The lawyer turned to Hugo and Anna with a smile.
"Mr. Hildebrand has sent his greetings to you and thanks you for your offer to keep the child."
(Oh no! It's not going to happen The stark terror showed in the child's eyes.)
"He feels that she will feel more at home here in Germany, however, I have been instructed to ask personally if she wants to go with me."
He turned to the waiting girl and asked, "Would you like to [leave] this home and go to America, Emelie?"
"Yes," she answered. She was through the open door.
When Emelie and Heinrich reached Buffalo, New York, they received a mixed welcome from the father. His joy at seeing his son was apparent, but his reception of Emelie was unemotional.
Hedwig had stayed in Germany as she had met a young man and was engaged to be married The step-mother owned a boarding house and as the first year passed, made a comfortable home for the sister and brother.
During the second year in the United States, Heinrich was drowned while ice-skating with his sister. The father's grief was so great at losing his only son that he cried out through his tears, "It should have been you, not my son. Why did this happen to me?"
He pushed little Emelie away as she tried to console him.
Emelie lived in the shadow of that death. Her brother had been close to her and she missed his love. Although the stepmother tried to make the girl feel welcome and loved, Emelie began to see that, in America, she could make a better life for herself.
The father became more oppressive and at the age of sixteen, Emelie moved out of the house and enrolled in a nursing college. In her third year of studies, Emelie began her internship as a visiting nurse. She developed a specialty in which she became so proficient and caring that she was on Call all around Buffalo. Her specialty was working with the deaf and dumb.
During her rounds, she met Thomas Voelker, a widower, who fell in love with the young nurse and proposed marriage. He was thirty-nine and she, nineteen when wed.
Thomas, though deaf and dumb, had graduated from an Engineering Institute in New York and had invested his inheritance in a Confection Store in Buffalo.
The couple decided to develop the business and settled down to a comfortable life together. The marriage was warm and friendly and gave Emelie the family that she had lost at age five.
The Voelkers lived at the edge of the Niagara River and enjoyed rowing across to the Canadian side for special times together with friends.
On July 17th, 1903, Emelie hung up her apron and walked around the counter.
"Thomas, I'm going to spend the afternoon with Tess," she signed to her husband, "It may be the last time before baby comes, do you mind?
"Are you sure it will be O.K. for you to row across this late?" Thomas asked in sign language.
Emelie assured him she felt fine, was strong as an ox, which she was, and left for the boat dock. Upon her return that evening she gave birth to her first child, a daughter whom they named, Beatrice Violet Voelker.
Beatrice, the name that Emelie chose for its beauty, and violet, the name of Thomas' daughter from his first marriage. The child was beautiful and joyfully received by both father and mother.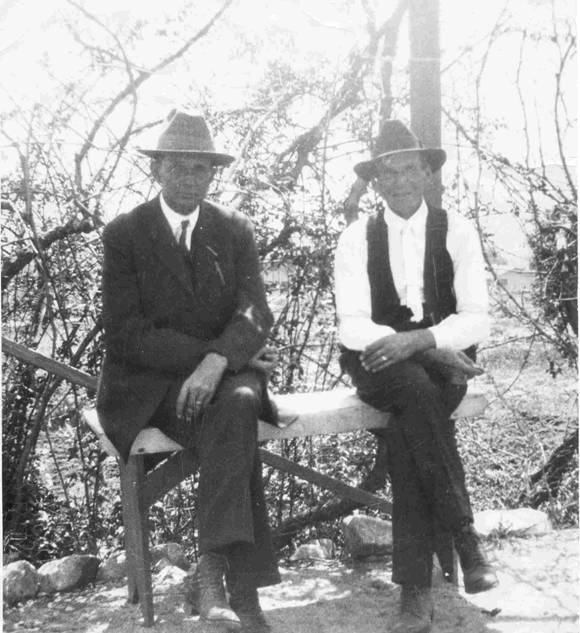 Brothers, Will Murdock on the left and Gardner Lee Murdock on the right. Between 1910 and 1920
Beatrice was followed by a regrettable miscarriage of little twin boys. Irene Katherine was born five years after Beatrice and became the favorite of her father.
The two girls were very different Beatrice was lovely and delicate but very quiet. Irene was a rambunctious, mischievous, child with laughter in her heart.
They were a delightful pair and made a great addition to the family.
Emelie had come into the Voelker family under a cloud of jealousy. Thomas was the oldest brother who had been a source of money for the rest. When his first wife had died, there was the glorious hope that he would leave his wealth to nieces and nephews.
Instead, he married a child bride, who not only was beautiful, but healthy and strong minded. Her husband was an exceedingly generous man which was pleasant for Emelie but his extended family had a habit of borrowing great sums from him and not returning it. As the economy began to slow down and the business lost money, the family became more grasping Emelie discouraged Thomas from making the 'loans' because they could no longer afford the outflow.
As she had taken over the bookkeeping at the beginning of the marriage, she could back up her argument with the account figures. This did not stop the family. They no longer came to the home, but met Thomas on the street during his daily walks and extracted the usual handouts.
Emelie loved her husband and didn't want to confront him further. She understood his generosity and would not have wanted him to change. Desperation led her in another direction.
Emelie had a courage and intelligence which commanded respect from the professional world. Her father had withdrawn her from school at age eleven to assist in the boarding house but, in spite of this, her examination for nursing school at age sixteen placed her in the top five applicants out of a field of seventy. She excelled in the school and was a well-paid and highly popular visiting nurse before she married.
One of the physicians who placed her in homes was also her personal family physician. The young woman had no extended family, as her father had disowned her, and, although she had a close female friend, it was not her style to share her problems with anyone. She had no idea what to do.
The money was slowly disappearing and there was no way to stop the flow "Come, Irene, put on your hat. Beatrice and I are waiting to take you to the doctor," Emelie said as she picked up her bag from the hall table "Mama, can I take 'Susu' with me?" Irene asked as she held up her rag doll "Yes, now let's hurry. Dr. Andrew said two o'clock and that's what he means."
As the three walked into the office, the doctor greeted them and put down the papers he was looking through "Well, how are the three prettiest ladies in Buffalo?"
"Fine, Dr. Andrew," Beatrice answered with a giggle, "but Irene has a sore throat". Emelie sat down with Beatrice beside her and Doctor Andrew turned to give the mother a searching look. He noticed her pallor and there was an unnatural droop to her shoulders as she turned the pages of a book for her daughter. He was struck again by the contrast in coloring.
Emelie had the luxurious blond hair of her German heritage. The child beside her and the girl he was doctoring were olive-skinned with black eyes and brown hair like their father.
"Irene, let's take a look. Hmmmmmm, put this under your tongue and we'll take your temperature." Dr. Andrew removed the thermometer from Irene's mouth and read it. "Temperature's up slightly. Let me give you a prescription and you can check with me about her condition in a week.
Pointing to Emelie, "You," he said, "I want to see tomorrow morning. I have nothing here to explain what I perceive in your physical, these children seem to be tiring you a bit. You need a checkup, tomorrow."
"Nonsense, Doctor, I'm fine and besides I have to be in the store"
"Emelie, must I talk to your husband and have him bring you in?"
The woman straightened up and surprise showed in her glance.
"That won't be necessary, Doctor. I'd rather not worry him but I assure you I feel fine, Emelie turned away and started for the door.
The doctor laid a gentle hand on Emelie's shoulder.
"Dear woman, I have delivered all of your babies, two unsuccessfully. I don't want another unhappy incident. Will you please come back tomorrow morning, alone?"
Emelie hesitated for a moment then nodded her head.
She felt like crying but didn't. That showed weakness. That wasn't her way. and Emelie was anything but weak.
The next morning Thomas took over the store and Emelie went to Dr. Andrew's. After a short examination, the Doctor sat down and looked at some notes he had been taking.
"What is bothering you?"
"I'm fine. Emelie replied, Just a little tired with the store and all.
"There's more than tiredness bothering you and as a long time friend, and your Doctor, I want to know. Are you worried about something I can help you with? It's not Thomas, is it? I told you that his lung trouble has been arrested, thanks to your care. The children are fine. It has to be you. Now what's the matter?"
There is no explanation for what followed. The woman who never cried, who had never cried since she was five years old, suddenly felt tears on her cheeks. She dried her eyes and began to share her worries with the doctor.
When she had finished, Doctor Andrew understood exactly what she was saying. He knew the Voelker family well and knew that they were capable of breaking up this young couple. When Emelie left the office that morning, a plan had been worked out that would change the course of her life again.
She felt a relief that brought the joy back to her heart and was smiling when she walked into the confection store.
"I'm glad you're back," Thomas signed, "I'm feeling a little sick. Take over and I'11 rest for awhile."
"Yes, Thomas. I'll just take off my things and be right down. By the way, Dr. Andrew says that he would like to see you next Thursday to take some new X-rays."
With this, Emelie hurried up the stairs She looked in on Irene, who was taking her morning nap. she felt as she contemplated the future of the family. Another door was opening for her. What a thrill!
Thomas returned from the doctor's visit with dejection showing on his face and when Emelie saw him, she was almost sorry for the effect of his visit.
She had to remind herself that the plan was best for the family. If they stayed here, they would be torn apart by greed and jealousy. She knew this and she had to keep quiet.
Thomas went upstairs and Emelie turned back to the customers. In the proceeding days some interesting activity took place in the apartment over the Voelker's Confectionary.
Maps and brochures were lying open on the table. There were continual soundless discussions between mother and father. There was an inspection of the building by a middle aged man in a gray overcoat.
All of this, the children witnessed and wondered at but the greatest surprise was yet to come. One evening, six days after Thomas had visited Doctor Andrew, as the family sat at dinner, the father raised his hand for attention.
He asked Emelie to speak to the children. "Beatrice and Irene, we have some very good news to tell you. Your Father and I have decided that we should move to the West. There's a better chance for you children there and it will be a healthier place for your Father. We have sold the store and begin packing tomorrow."
Emelie smiled and began eating. The children were torn between shock and hunger and hunger won out.
The next few days were filled with packing, travel plans and business. All four members of the family put in hours of work and the excitement of a new adventure cut through the pain of leaving familiar surroundings and friends.
The relatives were no help at all. Finally it was the last day in Buffalo and the first day of the trip. On the train to Chicago, Emelie began to review, mentally, the events of the previous week.
Beatrice had come home from school one day and ran up the stairs to her mother. "Mama, is it true that there are wild animals in California that will eat you up?"
Emelie stopped short and wiped her wet hands on her apron. ~
(FLASHBACK: "Emelie, there are wild animals in America that walk right into your cabin and attack you.")
"Beatrice, where did you hear that?"
"Uncle Julius met me at school and walked me home. Is it true, Mama?"
"Of course not, daughter. In fact we are moving to a harbor city called, Glendale. Why, big ships come right up the Los Angeles River to the docks of the city. See, here is a sketch of the area."
Emelie picked up a paper from the counter and showed it to her daughter
"But, Mama, yesterday cousin Richard talked to Father in the store and told him that there were gangs of roving hooligans in California. Is that true?"
Emelie sat down at the kitchen table.
(FLASHBACK: "Elsa tells me that her brother wrote that he has to live in a fort because the natives, I think they call them Indians.")
"Beatrice, tell me, who else has been talking to you about our move?"
Beatrice looked at her mother quizzically and answered, "I guess maybe some people at school and Aunt Sarah but that's all."
"Well, my dear, don't listen to other people. God is in charge of this family and with His help, we will make a good life on the West Coast.
You see, if I had listened to other people a long time ago there wouldn't be any Beatrice and Irene. Now, get to your homework."
The train trip was strenuous. It was good to arrive in the city of Los Angeles and spend a night in a hotel. The next morning, Thomas and Emelie arranged transportation out to the ranch they had purchased.
The news that the Los Angeles River was an underground stream and Glendale was a settlement not a city had been disclosed by the time they reached L.A. but to Emelie, that made no difference. She had walked through her second door.
The ranch was small and fertile. The work, hard but the life was healthy and the small family thrived. Emelie had lost another child shortly after they arrived in Glendale but she was strong and helping in the field before long. The beautiful weather was so invigorating after the New York blizzards.
The railroad tracks ran close to the ranch and through the small town of Glendale. Thomas found the tracks a straight path into town and would walk along them at least once a week.
It was a warm summer afternoon when Thomas was returning from buying spools of thread and a few small articles. He had to get home quickly for dinner and decided to walk down the middle of the tracks. It was faster that way. Everything had been going so well and he felt so good.
Emelie had the meal ready and waiting for Thomas when she heard a knock on the front door. The two men on the porch asked if she was Mrs. Voelker.
When she answered, "Yes, I'm Mrs. Thomas Voelker. What can I do for you?"
"May we please come in, Mrs. Voelker. We're from the County Sheriff's Department."
"Why, of course, is something wrong she asked, hurriedly opening the screen. Is Thomas in trouble?".
The two men walked into the front room and then answered her question.
"Mrs. Voelker, we are sorry to tell you that your husband has been hit on the railroad tracks and we have taken him to the hospital. The Engineer said that he blew the whistle several times but your husband didn't move.
We would be glad to take you to the hospital."
"My husband is deaf and must have not felt the train before it was too late. Please give me a minute to call my daughters in."
No tears, no panic, just practical acceptance.
When Beatrice and Irene heard their mother's call, they came running into the house. Emelie explained that she had to go on an errand with the gentlemen and they were to stay in the house. She would be back soon and told the girls to call Mrs. Giovinne, the neighbor, if they had a problem.
By the time she reached the hospital, Thomas had died.
She was very late when was taken back to the ranch. There were no tears on the outside but inside she felt that terrible wrench again of losing her security, her love, the warm body, when she felt cold, and this time she had two lovely, breakable children to protect. Well, at least, they wouldn't suffer the loss alone. She would be there.
She made arrangements for his burial. They had no close friends as yet, so wouldn't make any sense to have a funeral.
Emelie contracted with their neighbor to help in the field. He was an answer to prayer and a great friend. During this time an interesting problem confronted the young widow. She needed money.
Emelie began to sell milk from the three cows they had just bought before the husband's death. She drove the horse and wagon for daily deliveries to some of the new homes which were causing the settlement of Glendale to look more like the city she had expected.
She was also making friends. The Grays, who lived on a connecting ranch had a daughter and son her children's age and the families socialized with each other through the local Church. Emelie was astute and sophisticated. Besides that she was very pretty. A very pleasant friend to have.
Two of her deliveries turned out to be providential in the days to come. One was a Russian couple who had fled their country when things began to look dangerous. In fact, there was quite a colony of "White Russians" in the area and most of them were titled. The Murmans were in line for the title of Count and Countess before they immigrated to the United States. Mr. Murman was the eldest son and a magnificent wildlife artist. When he came to California, he was hired by an interior decorating firm in Los Angeles. "Aunty" Margaret as the girls were asked to call his wife, was a concert pianist, who dearly loved her younger friend and included Emelie and the girls in her life.
The second customers were Mr. and Mrs. Gardner Lee Murdock and their two sons, Wilbur and Garland, who coincidently were friends of Murmans. Lee, as his friends and family called him, was a well known building contractor in Glendale and had built his home on California Ave. The home that Emelie delivered milk to on Tuesday, Thursday and Saturday
When her husband died, Emelie had taken his Will to a Los Angeles attorney, whom she had met through the Murmans and had it probated. Her legal acumen as well as all of her professional knowledge was due to her insatiable reading and very unusual in a woman of her age, but she was an unusual woman. The attorney respected her and would become her legal advisor for the extent of his life. The recording of the Will was an act of God.
The week after she had seen the lawyer, she was canning tomatoes in the kitchen and looked out the window to see two Catholic Nuns walking up the front path.
She moved the kettles to the back of the wood stove, pushed her hair back and went to the screen door.
"Are you Mrs. Emelie Voelker?" the smaller of the two women asked.
"Yes, I'm Mrs. Voelker. Can I help you?" Emelie asked.
"May we come in for a moment, Mrs. Voelker. We would like to talk to you."
"Of course," and again she opened her screen door to a couple of strangers.
"We'll get right to the point, Emelie. We have come from Los Angeles where we were notified of your husband's death. I'm sure you know that your husband had a daughter by his first marriage named Violet and that she joined the Convent of the Sisters of Mercy in New York?" the shorter Nun asked.
"Yes, I've met Violet. She came to see us in Buffalo. Why?"
"Well, my dear, when Violet joined the convent your husband and his first wife signed a paper promising to give Violet half of what they had, in the event of their deaths."
Both Nuns smiled sweetly at the young widow.
"I see," said Emelie, smiling back. "Do you have the document with you now?"
"Oh no. It requires your signature of affirmation, which is merely technicality, before we can sell the ranch and divide the money," the small Sister replied.
"We want you to come to this address in Los Angeles tomorrow afternoon. It's the headquarters of our Order. We'll expect you at 3:00 p.m."
The two women rose and walked to the door. Emelie said good by and slowly closed the door, for just a moment, her body slumped against the wood, but only for a moment.
She straightened up and ran out the back door.
"Beatrice, Irene, come quickly!"
She took their two little hands, ran across the fields to her neighbor, Giovinne's house and knocked on the door.
"Please Mrs. Giovinne, may I use your telephone?" she asked the plump, little woman, who answered the door.
"Why, of course, Mrs. Voelker. Come right in."
Angie opened the door and Emelie and the two girls entered the kitchen.
The phone call was to her attorney, Jackson Laurence. She explained what had gone on with the Nuns and asked advice. The information she received was reassuring.
"You will go with me then?" she asked, "I'11 meet you at 12:30 p.m" "Thank you so very much."
As she hung up the phone, she smiled at Mrs. Giovinne.
"Would you mind very much if I left Beatrice and Irene with you tomorrow? I have some urgent business to take care of. I would certainly appreciate it." The older woman assured her it would be fine and they agreed on the time. As Emelie walked back across the fields, she felt suddenly very tired. She was an old, twenty-six but that was all right. Sometimes she thought she was born old.
The next day Emelie put on her best dress and hat and walked the girls over to the neighbors. She walked into town and boarded the streetcar to Los Angeles. At the underground depot, she found Mr. Laurence waiting for her. He took her arm and escorted her out onto the street.
"I'm going to enjoy watching the face of Mother Superior when you walk in with me," he said. "I've heard about this type of thing before but the widow hasn't been smart enough to have the new Will probated. How come you did that so fast?" Mr. Laurence asked Emelie.
"It was the logical thing to do. It wasn't because I thought anything would happen. I just knew it was important." Emelie sighed as they walked along the street. They turned off the main street and walked two blocks to the walled-in Convent of the Sisters of Mercy. Mr. Laurence asked for the main office and they were directed upstairs.
As they entered the spacious room, they greeted the woman who was sitting at the beautiful cherry wood desk. The two visitors of the previous day were standing to her right. The look of surprise on all three faces was worth the entire trip, Emelie thought. She introduced Mr. Laurence as her personal attorney and asked if they would repeat their request of yesterday to him.
"Well, Mrs. Voelker, we hardly expected you to ask for legal help After all, this is not a legal matter. It is more of a family situation. I'm sure that you want to do everything you can for Violet and it's not necessary to air our problem before strangers."
The Mother Superior was definitely discomfited.
"I ask you again, please repeat the request that your two Sisters made of me yesterday and also, I'm curious about the document you were going to ask me to sign."
Emelie presented a much more authoritative figure than she had yesterday. She had been surprised in her home but knew what was happening today.
"If you must, then here is the paper. It just says that, according to the will of the previous Mr and Mrs. Thomas Voelker you will agree to sell the property in Glendale and, as per the agreement, give half of the money to the Order in which Mr. Voelker's daughter now serves."
The Mother Superior handed the paper to Emelie, who handed it to Mr. Laurence "You have no legal right to require my client to follow these instructions," exclaimed the lawyer, there has been a new Will recorded which negates any previous Will.
I'm afraid that both parties here have made their trips in vain.
Now, if you will excuse us, we'll leave. I am very surprised that you even brought this shocking suggestion to a woman who has just lost her husband and the father of her two small children. Where is your Christian Charity? We'll see ourselves out now, thank you."
Mr. Laurence swept Emelie out of the room and down the stairs.
As they came out on the street, the lawyer looked at the women beside him.
"How would you like a job in my office, young lady?" he asked.
Emelie smiled and thanked him but said that she was not ready to think of anything right now. She was emotionally drained and needed a rest. if she could. Right now, she just wanted to get home and relax,
As she left the lawyer at the streetcar, she promised to call him later about other matters in which she needed help.
One year later, the "matters" that Emelie finally discussed with Mr. Laurence were a direct result of the last visit with her family doctor.
He had assured her that if she didn't sell the ranch and get away soon, she might end up in a rest home, if not the hospital.
She had gone home from the doctor's and spent the night looking at all of the legal papers she had. She worked out some figures on a piece of paper and went to bed with the plan for her future.
"You know you'll be living on a very strict budget when you come back, Emelie, you and the girls," Jackson Laurence reminded her, "But it will give you a couple of years in Germany and that rest you need"
"I know it won't be easy when we get back but there may not be another chance and I would like to see if there is any family left. I know my sister is there and she has asked me to stay awhile with them. Enough talk. Give me the papers and handle my finances, please, and I'll go home and pack."
The ranch had sold for a reasonably good amount and Emelie had worked out the finances so that the three of them could travel to Europe with enough money left over to buy another small home when they returned and a small investment for living purposes.
The trip over on the steamer was exciting for the three. The children became the pets of the crew. Emelie enjoyed the steamer chairs and the sea air did wonders for her. She began to regain the beauty which had been slipping away from her. They ate at the Captain's table and Emelie was a welcome addition. She hated to see the voyage end but, then, thought of the joy of seeing her sister. Hedwig and her husband, Julian, were meeting them at the dock.
Emelie recognized her sister at once. She had grown much older but the resemblance remained. The man who stood beside her had the German male bearing and his reception was less than warm. He probably recognized her as the strong minded woman that she was and he didn't approve of strong women. They were made welcome, however, and Beatrice and Irene were an attraction with their luxurious dark hair and lovely black eyes. Of course, Emelie dressed them like dolls and coming from the United States made them special.
The girls were enrolled in schools and Emelie settled down for an extended visit. Her time with Hedwig was enjoyable. Hedwig had two daughters older than Bea and Irene. Martha, the youngest was particularly sweet and took care of the youngsters when Emelie wanted to travel. Emelie had deposited a sum of money in a German bank and made arrangements for Mr. Laurence to forward money to the bank as she needed it. It was the early 1900's and there was a strange turmoil in Germany. Europe was roiling just like the earth before an earthquake.

Beatrice was having a wonderful time in school. She was the most important student in class. Coming from the United States was quite an interesting topic and the girl's quick control of the German language helped her to fit in with the local children. Irene practically ran the kinderschool. She was lively and intelligent and full of energy. The teachers adored her.
-20-
~
The visits made to relatives were disappointing. Hugo and Anna had grown old and the children gathered around Emelie with cries of delight. She hugged them around and sat for the first time in the kitchen while Susu brought her a cup of coffee
"How have you been Emelie?" Hugo asked her. "You seem to be doing quite well. We're sorry we didn't answer your letters but you know how busy we are. The children have really missed you. Tell me what is the United States like?"
Emelie turned to the man and realized that she actually felt sorry for this family. They were still tied to a place with very little future while she had such a promising future. She spent the afternoon then walked back to the subway and home to Hedwig's. She thanked God with every step that He had helped her on her way that day so many years ago. She thought of Hedwig and Julian and their sterile life. Her heart warmed at the thought of her adopted Country. Her love for the United States would never diminish and she passed that love on to her children. It was good that she came back to this Country. The trip emphasized the advantages of her freedom in the United States She would always remember the sights, sounds, and restrictions, she encountered on that trip.
The Voelkers were six months into their second year when Emelie began to be disturbed by conditions on the street. There was an air of expectation that she didn't like. The news was becoming more political and the importance of the German race was becoming a main subject. Emelie was totally a-political and would usually ignore the subject but she had to remember she was a foreigner in a foreign land. or so she thought until one day she went to the local office to renew her Visa. The man behind the desk handed her papers back with an inquisitive stare.
-21-
"You are German, No?" he asked.
"I am not German, sir, as you can see, I am a United States Citizen." Emelie was slightly irritated.
"I'm sorry Mrs. Voelker, but you know that once a German, always a German. You should be proud of that.
Emelie stood up with her papers and responded, "I'm an American
Citizen and gave up my German Citizenship when I was five years old
"Nevertheless, we consider you and your children as German Citizens, especially in a state of emergency," was the retort.
The shock of this statement did not register on the young woman's face but as she walked out, she knew what had to be done and immediately: She returned home for her deposit book and walked back downtown and into the Bank of Braunschweig. As she approached the teller's window, she assumed an air of superiority. This transaction must seem normal.
"Please, I would like to withdraw the balance of my account." Emelie said as she passed the bankbook to the teller.
The teller looked at the book carefully then referred to a note on his counter. He looked up and the young woman met his gaze. "I'm sorry Mrs. Voelker but we have frozen foreign funds as of this morning. You cannot withdraw your money." Again, "Young man, the shock did not show, the voice was even and strong, I am a United States Citizen. Would you prefer that I go to the U.S. Embassy and make a personal complaint? Please let me see the manager immediately."
Emelie had raised her voice and was glad to see the door to a small office open. She had dealt with Mr. Hueffer before and had made a great impression on him. She smiled as he approached.
"Hello, Mrs. Voelker. Is there a problem?"
-22-
"Hello, Mr. Hueffer. I'm surprised at what this young man has just told me. He has said that I can't withdraw my own money. You know, I have two children depending on me and we have planned a short visit to Holland. I must have my dollars for exchange into their currency. I'm sure you can understand my situation." Mr. Hueffer hesitated a moment then nodded to the clerk. He smiled at Emelie and asked how the children were getting on.
"Beatrice is so happy in school. She has advanced two grades already and, of course, Irene is taking the Kinderschool by storm. How is Mrs. Hueffer?" The manger said she was fine, smiled as the teller gave her money and told her to drop in for a visit when she returned. She thanked him and waved as she left the bank. First Step, taken.
When Emelie arrived at home she went to her room and began packing clothes. Hedwig was gone so when all the bags were packed she wrote a note to Julius and Hedwig telling them that she would contact them when she could. Not to worry. She just thought it was time to visit the cousins in Berlin. waved down a carriage She then carried the bags onto the street and "Please take me to the Elementary School on l3th street and wait until I get my child," she directed the driver. When they arrived she went into the main office and explained that she had received an invitation to visit relatives in Berlin and had to withdraw Beatrice immediately in order to catch the train "May I please ask you to hurry as I started so late." smiled pleasantly Emelie The school released Beatrice and as she stepped into the carriage she asked her mother where they were going. "Why to Berlin, dear, to see Cousin Hector and Irma. Remember they were the ones who invited us last year.
-23-
I've decided now is a good time.
The next stop was for Irene and then the railroad station. Emelie paid the driver and headed for the ticket window. "Please give me three tickets to Amsterdam, Holland. Two children." Emelie put the money on the counter and the ticket seller handed her the tickets.
The three travelers went to the platform and waited for the train. It arrived in thirty minutes and they boarded with the help of a porter. The trip was uneventful and tiring. The children be came restless but were exceptionally good. Emelie told them where they were going only when they had crossed the border between Holland and Germany. Then she pulled the girls into her seat and said in English: "Girls, we aren't going to Cousin Hector's. We're going home."
The expressions on their faces changed from surprise, went through contemplation and ended in happy smiles. After all, they had missed their home. That assured Emelie that she would not have to make any further explanation. If they began to wonder at the events of the trip, they didn't ask any questions. After all, mother always knew what she was doing.
When they reached Amsterdam, they checked into a hotel. Emelie locked the girls in their room and went to an address that Dr. Andrew had given her before she left the United States. She knew enough Dutch to ask directions and finally found the right door. She knocked and an elderly man answered.
"Dr. Townsend?" Emelie asked.
"Yes," the man smiled. He looked carefully at the young woman who stood at his door. "Won't you please come in?"
Emelie sat down in the living room and told the doctor that she was on her way home. He verified her good judgment and told her that she had better get to the Embassy immediately as all of Europe was
-24-
ready to explode. In fact he said that he was leaving on the last United States Navy Ship the next evening. He gave her the address and helped her get a carriage. It was just a ten minute ride.
When she arrived at the U.S. Embassy, she paid the driver and walked into the building. She was surprised to find it so quiet. She stopped a young man who was moving furniture and asked where she could find the Ambassador. He pointed to a door down the hall and she walked into the office. The secretary looked up in surprise and asked if she could help. Emelie explained that she wanted to talk to the Ambassador about leaving Holland and going home. The girl behind the desk called the Ambassador and he came to the door. "Please come into my office. Excuse the mess, we1re moving out".
Emelie sat down as indicated and told the man her situation. He looked at her steadily and said that there was no way that she could leave Holland now. He was very sorry but she wasn't the only American citizen who would be left behind. War was declared and the English Channel had been mined. There was only one American ship leaving port and that was a U.S. Navy ship which was filled to ca- pacity. "Excuse me, Sir, you don't understand. I have two small children and am by myself. I must leave Holland or I will be recalled to Germany. I was born there, and my children will be made to become citizens. You just don't understand." The Ambassador looked at the young woman with no emotion and stated that he could do nothing for her, he was very sorry. Only necessary personnel would be allowed on the overcrowded ship "Necessary, you mean like medical personnel?" Emelie asked "Why yes, and now I must get back to work Mrs. Voelker. The young woman left the office and caught a cab directly back to the doctor's home.
When he answered the door and showed her into the house, she stopped a moment to catch her breath. Then she told him her predicament. When she had finished, the stillness in the room was oppressive. Emelie broke the silence with a suggestion. "Would you please consider what I am going to suggest very seriously? Don't answer me until you have given it some thought. I don't mind for myself but I'm worried about the girls. I can live, I'm strong, but what will happen to Beatrice and Irene if the German government takes them back to my family? They'll be crushed. Girls don't stand a chance in that Country. I'm desperate and I think I've found a way out. Will you claim them as your family? Take them on the ship with you, please. I'll give you names and here's all of the money I have. They are well behaved and I'm sure it will work." Emma stopped and watched the reaction to her plan.
Dr. Townsend sat so still that he didn't even seem to be breathing. He thought and thought and said nothing. After an endless time, he got up, walked over to a desk and picked up a paper. It was a letter he handed it to Emelie. What she read didn't seem to make much sense.
"What does this have to do with me?" she asked.
"Well," the doctor said, smiling, "how would you like to go with your girls?"
Emelie felt tears come to her eyes and she just sat there saying nothing. She didn't understand how that was possible and what that had to do with the letter. All the letter had said was that someone called, Collis Cooes, could not make it and they were very sorry but the family was in trouble and they had to remain where they were. What could that mean?
"Listen and listen carefully," the doctor said, "I have passage for both myself and a nurse. Now, the nurse's name was Collis Cooes. She can't leave the Country but you can, as my nurse. They will have to let you go. Medical help for the ship is necessary.
-26-
We'll take the children too. How does that sound?"
Emelie stood up quickly. She couldn't believe her ears. This was just an impossible, possible solution. Her statement was simply, "I am a nurse, you know. Did Dr. Andrew tell you that? I can't believe this. Do you mean it? Is it possible?"
By the time she got back to the hotel, it 'fas evening and the poor children were starving but she had passage on the ship. The last American ship to leave Europe before the World went up in smoke.
The ship left the next evening as soon as it became dark because of the danger through the English Channel. There was fear of gun fire, also The Channel was mined and the Captain steered the vessel which had to be kept in total darkness. The prayers for a safe passage through the mines and into the Atlantic Ocean were answered. The last American ship with the three frightened Voelkers aboard made a safe journey to New York and Emelie again was assured that God, in all of His Mercy, had had a hand in her life.
The return to California was uneventful and when the family arrived in Los Angeles once again, there was cause for rejoicing, Emelie purchased an acre in a small community north of Glendale called La Crescenta. It was nicknamed, "Rocky-Center" and that was exactly what it was. The small two story bungalow in which they would live was so small that it could barely hold the three of them.
The soil was fairly rich and there was a lovely grape arbor at the back of the house. Emelie put in a vegetable plot right away and they all three worked on it. Beatrice took a streetcar to a school in Glendale and in the following year so did Irene.
Their life was hard and they did with very little. Once a month they went to town and bought bags of meal, flour and oil. It wasn't anything like the ranch but they were surviving.
-27-
While Emelie and her daughters were in Germany, Eva Marie Murdock, Lee Murdock's wife, died leaving Lee a widower with two young sons. His good friend and Emelie's, Aunty Margaret, became a 'matchmaker'. She had kept in touch with the Voelkers and invited both the families to her home for dinner. This was the beginning of a short courtship which culminated in the marriage of Emelie Emile Voelker to Gardner Lee Murdock. Emelie was 38 years old and Lee was 52.
Gardner Lee Murdock was a tall, six foot, dark Irishman who had worked outside all of his life. Emelie was 5'2" with the translucent complexion, steel blue eyes, and lovely blonde, wavy hair of the pure German descent. Again she had married a man older than herself and of opposite coloring. Lee was a good-looking man and had gentle kind eyes. They began life in the bungalow in La Crescenta.
To Be Continued At a Future Date, God Willing
[It's unfortunate, my mother Grace Margaret Murdock died at the age of 84 before she could add more to this narrative. It left off at 1921. Grace was born 3 years later to Lee and Emelie, in Glendale and was raised by them and her older sisters Bea and Irene. We, her 4 children, will add to this narrative as time permits, filling in the gaps between 1924 and today. ]